With another great season of fun and respectable driving in the bank the OZICAR Formula Skip Barbers continues to grow into one of the best Leagues going around and with less than half a dozen Race Control incidents all season it is a testament to the 35 drivers who put on some great racing.
Six different drivers stood on top of the podium with World Skippy champ Cristian Perez taking one win along with Donald Sabanal also on one along with kiwi Daniel Hetterschied, who showed he is quick in just about every car and Alex McKellar also on one win. Ben Snell took two wins along with Scott Batjin and series winner Alex John who stepped up from just out side the top ten in Season 6 to take the win overall.
Alex's average finishing position was 3rd, some 30 points clear of second place so he was easily the most consistent quick driver this season and he thoroughly deserved to win what was a challenging season with drivers having to learn two weeks most weeks and an oval!
Alex's Team mate Alex McKellar, took home 2nd overall and so their team, Top Split Racing dominated the season obviously winning the Teams points.
Locked On Lads Dot Com's James Chasteauneuf finished in 3rd overall after another stellar season and while not taking a win he was there every race showing he can mix it with the best.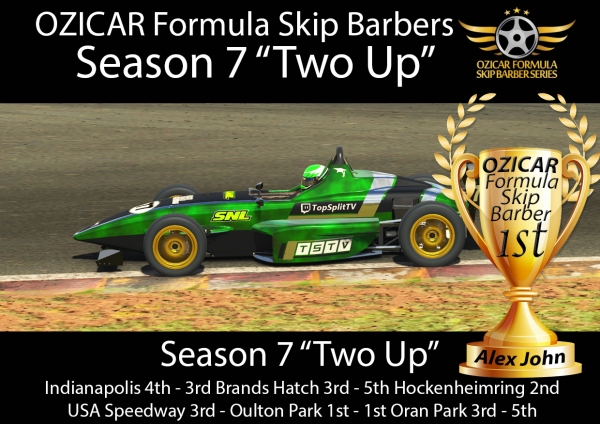 Scott Bartjin finished in 4th place after leading the series early on and threw away a series podium when he went for gap that just wasn't there at the last round at Oran Park when all he had to do was cruise around and get some points.
Daniel Hetterscheid was coming off multiple series win's in Official and private league V8's and took an amazing win at USA Speedway making the pass coming off turn 4 to take the win after 100 plus laps. With a season now under his belt you can expect to see him pushing for the top three overall in Season 8 "Grand Prix" which kicks off this Thursday with a stacked field of 40 plus cars entered.
Daniel and Scoot took home second in the teams for One Eleven eSports from Van Diemen Racing's Donald Sabanal and Russell Clark who took home another series Team's podium despite some bad luck for both Don and Russell at a few rounds. With a clean run they will be back vying for the overall no doubt.
"I know I keep saying it but the series just keeps getting better and with lots of different drivers taking wins and podiums it was the best racing yet and it's only getting better." said OZICAR owner Ira Fehlberg.
Season 8 starts this week and as always broadcast live on SimSpeed TV.
Many thanks to series sponsors SIMFINITY, Prestige Trophy and Badge & 247 Race Control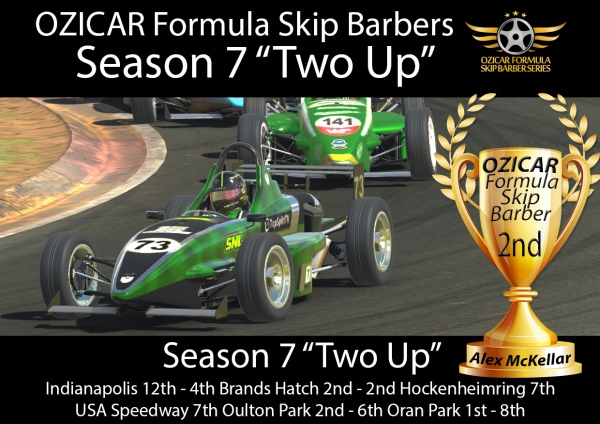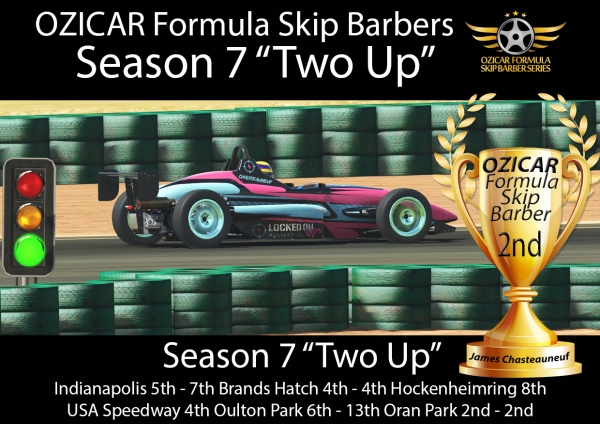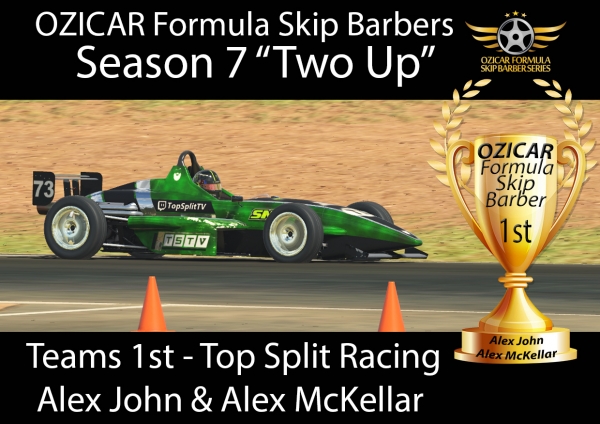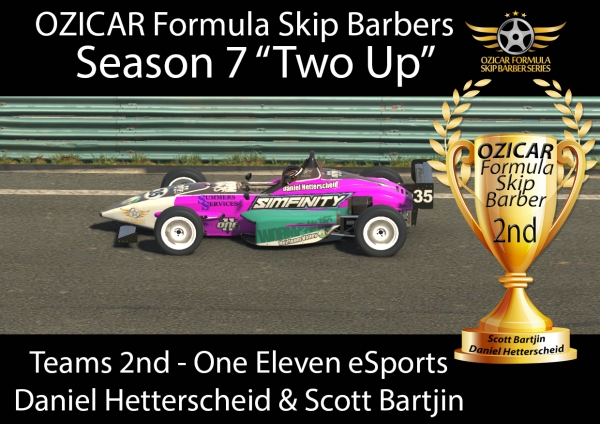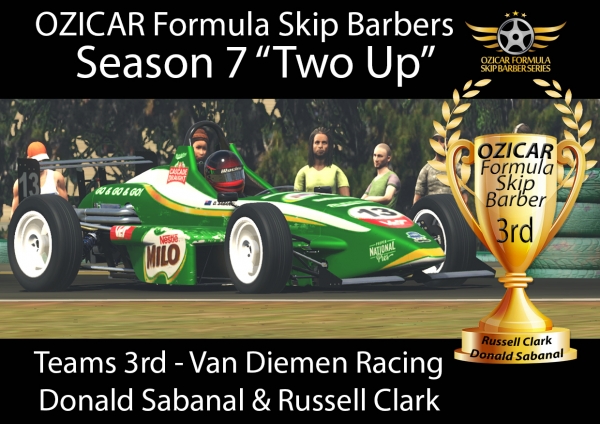 << Back to News